Kevin Anthony Adams, #665, 1964 – 2003
Sep 02, 2003
TSA Webmaster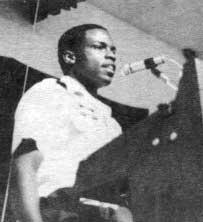 Ed Sackley, #225, writes:
"Our friend Kevin Adams was buried today (Saturday, September 6, 2003) in Livonia, Michigan. His funeral attracted several hundred family members and friends. Kevin's life touched hundreds within the Michigan Wing–including those of us who worked and nurtured him as a cadet–and cadets who were, in turn, nurtured by Kevin. The Civil Air Patrol turnout was significant and following the funeral mass, many uniformed members participated in a touching flag ceremony."
The following obituary was prepared by Kevin's best friend, Leo Burke, #749:
"Kevin Adams, 38, passed away from pancreatic cancer on Tuesday, September 2, 2003 at 10:55PM. He is survived by his wife Michelle, his daughter Kaitlyn, age 3, his mother Mary Holley and many, many loving friends. He was born on September 7, 1964 in Detroit, Michigan.
"Kevin joined the Civil Air Patrol as a cadet in 1977. He progressed through the cadet program, earning the General Carl A. Spaatz Award in 1983. Kevin joined the US Air Force and served on active duty for six years. After an honorable discharge, he returned to college. During his USAF service and afterward Kevin remained active as a Senior Member in CAP, progressing to the grade of Major and holding numerous positions, including Director of Cadet Programs in Michigan Wing. After graduating from Oakland Community College and then Eastern Michigan University, Kevin worked in the Information Technology field.
"Along the way he met, fell in love with, and married Michelle (Vitkay). He became the proud father of Kaitlyn, less than two years later. Kevin and Michelle recently realized their dream and opened their own business, a Coldstone Creamery Ice Cream store in Novi, Michigan.
"Kevin lived a short but full life. He was a black belt and international competitor in Tae Kwon Do before turning 16. He actively participated in all manner of physical fitness activities. He was a licensed airplane pilot and an active scuba diver."
Glenn Overby, #437, writes:
"The 2003 death of Kevin Adams (#655) brings back memories of the 1981 Michigan Wing and Great Lakes Region drill team, which might well be called "The Team The Diamonds Fell On". Kevin was a cadet 1st lieutenant when they marched in Alabama at the 1981 NCC. He would be the ninth and last team member to win the Spaatz Award, out of 16 members.
"When the team won the Michigan Wing competition in May of 1981, its only Spaatz winner was Alan Dickinson (#524) of Five Points Composite Sq, the 1979 National Cadet of the Year. But that would soon change. Team commander Bob Hazey (#586) and squadron-mate Robert Sunman (#585) of Independence Cadet Sq would follow just a few weeks later. Summer personnel changes would add Michael Dobies (#574) of Utica-Sterling Cadet Sq.
"In December, the team would put five cadet colonels on the field for Nationals. Julie Jankowski (#588) of the Bay City Composite Sq was notified when the team plane landed at Maxwell AFB that she had passed her exam. The team won the Special Team Award and the written examination event, and finished third overall.
"The team also included four future Spaatzen: Edith Disler (#590) from Five Points, Greg Hudas (#592) from Utica-Sterling, Paul Harris (#600) from Dearborn Cadet Sq, and finally the late Kevin Adams, also from Five Points. Paul would also go on to win the 1982 national Frank G. Brewer Award for aerospace education. Major Glenn Overby (#437), another future Brewer Award recipient, was the team's coach and male escort officer.
"Seven of those nine Spaatz Awards were earned within a year of each other. It was truly a case of good young men and women inspiring each other to excellence."