Sanchez Earns USAF Commission
Jun 18, 2005
TSA Webmaster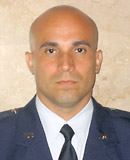 Rafael Sanchez, Spaatz #1355, received the gold bars of a U.S. Air Force second lieutenant on June 18, 2005. The new lieutenant is a member of Dr. Cesareo Rosa-Nieves Cadet Squadron (SER-PR-123). Rafael served in the Puerto Rico Air National Guard from 1996 to 2003 as a Personnel Journeyman. He then joined Air Force ROTC Detachment 755 at the University of Puerto Rico, where he earned a Bachelors Degree in Finance. Lieutenant Sanchez will become an Acquisition Officer at his next assignment at Vandenberg AFB, California.
The commissioning ceremony was attended by family, friends, CAP members, military personnel and in a special note by four other Spaatzen from 2d Lt Sanchez's unit: Capt Kenneth Lozano (#1162), TSgt Tirso F. Peña (#1277), Jonathan Vazquez (#1539), and C/Col Ismael Rodriguez, the unit's thirteenth and latest member to receive the Spaatz Award. Additionally, the ceremony was attended by CAP squadron commander Lt Col Felix R. Davila, wearing his old Marine dress uniform, and Capt Denny Lozano, former unit member and Puerto Rico Air National Guard Maintenance Officer.
Lieutenant Sanchez highlighted the significant contribution that CAP has made to his life all those years as a CAP Cadet and Senior member. He encouraged all the CAP cadets to set high standards for their life in order to achieved their goals and dreams. He gave the honor of the First Salute as a USAF officer to LCPL Felix Davila, the unit's squadron commander.