Ray Staats, #734, at the helm of Gadsden State Community College
Excerpted from The Gadsden Times Online.
By Kendra Carter
Published: Tuesday, November 29, 2011 at 10:37 a.m.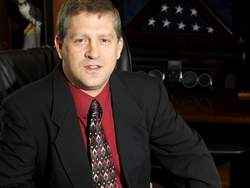 Ray Staats is a man who just knows.
He knew April 29, 1980, at age 14, that he wanted to join the Air Force.
He knew New Year's Eve 1988 he wanted to marry Dawn, his wife of 23 years.
And he knew he wanted to come back to Alabama to work, applying for two opportunities that could lead him back to the Yellowhammer State to be named the new president of an Alabama community college.
When Staats sat down with Gadsden Style, he talked knowledgeably about his plans to renovate facilities, use the area around the campus, create a strategic plan for the college to identify priorities and conduct a budget review to see how the college spends its money. He spoke confidently in a way that could make anyone think he'd been part of Gadsden State for years.
He had been on the job for about eight weeks.
Staats was hired in late April to be the college's seventh president. He took the helm on June 1.
To continue reading, visit The Gadsden Times Online…