Are you coming to the 2012 Winter Dinner?
Dec 09, 2011
TSA Webmaster
TO ALL SPAATZEN AND FRIENDS OF THE CIVIL AIR PATROL: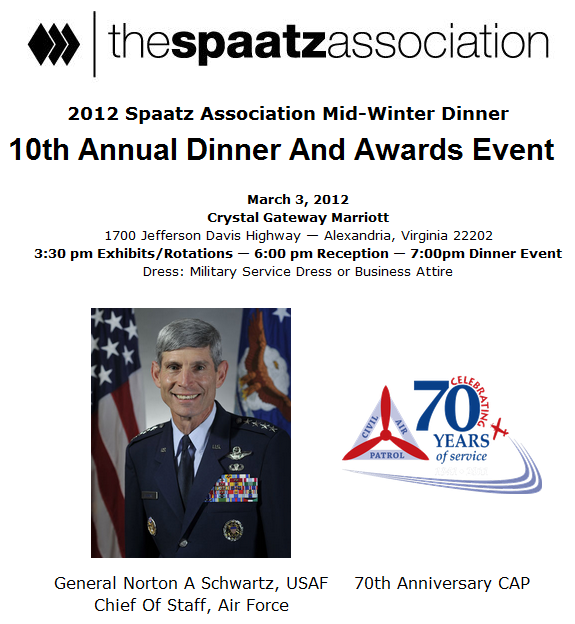 We hope this announcement finds you and family well this Holiday Season.  Our Dinner is quickly approaching and the deadline for a discount rate will expire on the 31st of December, only a few weeks away.  As in past years preparations are being made to create another one of a kind event. This year is special in that it will be our 10th Anniversary of the dinner and we will also be recognizing the Civil Air Patrol's 70th Anniversary. We have a very special guest speaker this year, General Norton A. Schwartz, the Air Force Chief of Staff (see attached). Also in attendance will be Major General Charles L. Carr, Civil Air Patrol's National Commander.
If you cannot personally attend we ask you to consider sponsoring a deserving cadet.  These cadets are our future leaders. Our dinner allows a unique opportunity to begin networking towards that future.
When:  3 March 2012
Where:  Crystal Gateway Marriott, Arlington, VA
Sign up to attend or sponsor a cadet online at www.winterdinner.org.
We hope you can join us!
SANDIE AURICH, #894
National Secretary