Make Attending The TSA Winter Dinner Your New Years' Resolution
Dec 29, 2011
TSA Webmaster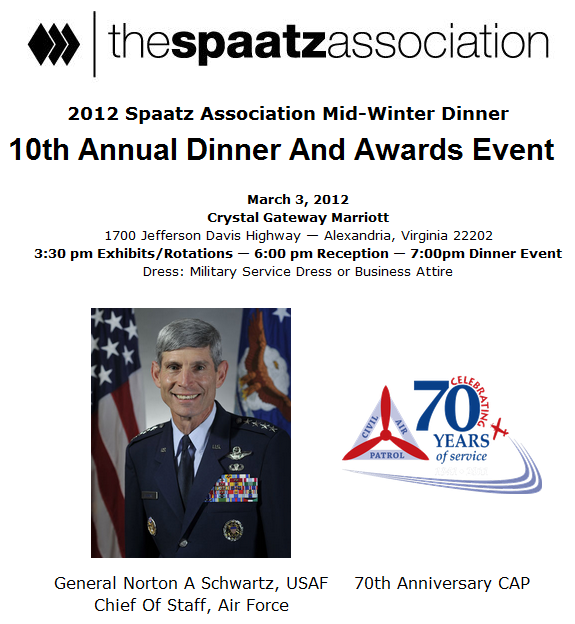 It's time for your annual New Years' resolution!  Your Spaatz Association offers a great opportunity to toast the new year by attending our 10th Annual Winter Dinner dinner and honoring the volunteers of the Civil Air Patrol, as CAP celebrates its 70th Anniversary.
This year, we are honored to present General Norton A. Schwartz, Air Force Chief of Staff, as our Keynote speaker.  This is a rare opportunity to hear such a dynamic speaker of high standing–one of the perks of membership in your association.
If you cannot personally attend, we ask that you consider sponsoring a deserving cadet.  Selected from units around the Washington, D.C., area, attending the Winter Dinner provides these young leaders and opportunity to begin networking for the future.
Visit the Winter Dinner website at www.winterdinner.org to sign up to attend or sponsor a cadet.  Should you have any questions on the event, please feel free to contact me at any time.
Sandie D. Aurich (Spaatz #894)
National Secretary