TSA Dinner Shaping Up for 2012
Feb 04, 2012
TSA Webmaster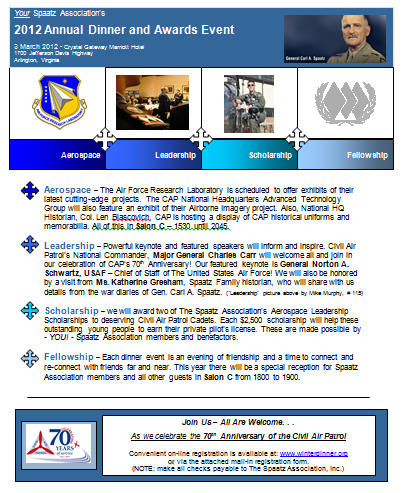 We are now just one month away from a truly spectacular event celebrating not only TSA's 10th Annual Mid-Winter Dinner anniversary but Civil Air Patrol's 70th year of service to the Nation.  We are truly excited this year to have as our keynote speaker none other than the Air Force Chief of Staff, General Norton A. Schwartz.
If you cannot personally attend we ask you to consider sponsoring a deserving cadet.  These cadets are our future leaders, and the TSA Mid-Winter Dinner allows a unique opportunity for them to begin networking towards that future.
Sign up or sponsor a cadet online at www.winterdinner.org.
Come and join us!
Sandie Aurich, #894
National Secretary
Your Spaatz Association