Answering The Clarion Call To Service
(Excerpted from the Apr-Jun 2012 CAP Volunteer.  Reposted with permission.)
By Julie DeBardelaben
Gen. Carl A. Spaatz's lifelong service to America generated a long list of awards, honors and achievements throughout his 34-year military career. He shot down three enemy planes and was awarded the Distinguished Service Cross during World War I, and he was revered by President Dwight D. Eisenhower as one of two American general officers who contributed the most to the victory in Europe during World War II. He was selected as the first U.S. Air Force chief of staff, serving in that role from 1947-1948, and as Civil Air Patrol's first national board chairman in 1948, a position he held for 11 years.
His legacy is memorialized in numerous prestigious ways, but the one closest to CAP's heart is the Gen. Carl A. Spaatz Award, the organization's top cadet award, presented to less than onehalf of 1 percent of all CAP cadets.
Each year the Spaatz Association celebrates Spaatz's legacy with a Washington, D.C., gala attended by Spaatz cadets, mentors and supporters. This year's event featured a keynote address by the Air Force's chief of staff, Gen. Norton A. Schwartz, who assumed office some 61 years after Spaatz.
In keeping with Spaatz's legacy, service was the focus of Schwartz's remarks. Excerpts from his speech follow:
"In addition to honoring our Spaatz award recipients tonight, we are here to celebrate the 70th anniversary of Civil Air Patrol. I salute the 61,000 volunteer members of CAP, who across the nation provide that day-to-day guidance, mentorship and inspiration for the nearly 27,000 cadets, ages 12 to 20, of Civil Air Patrol.

"Through emphasis on aerospace education, leadership and character development, physical fitness and overall wellness, CAP exposes our youth to what it means to serve, and to lead others to do the same.
"To our young and talented CAP cadets, I salute you for your commitment to character and leadership development, to aviation and the aerospace field and to the other key tenets of the CAP cadet program: physical fitness and all-around wellness, including serving as examples of a healthy and drug-free lifestyle.
"We are extremely proud the CAP Cadet Program, with aviation as its cornerstone, is among the finest and most respected youth development programs in the country.
"As aerospace enthusiasts and supporters, we know America depends on aerospace for a wide range of strategic interests involving commerce, diplomacy, military matters and intelligence, to name just a few.
"We are very thankful for CAP as an organization, which since 1941 has served our nation faithfully as an Air Force partner in providing airpower for civil support.
"From humble beginnings as flying Minutemen and subchasers in World War II to flying in 2011 more than 100,000 hours — 74 percent of which were at the Air Force's request in support of local, state, regional and national-level efforts — this venerated organization can be proud of its tremendous accomplishments.
"On the 70th anniversary we salute Civil Air Patrol for its impressive history of effective utilization of aviation, such as U.S. disaster relief efforts across varied terrains and in dire conditions including floods, hurricanes, tornadoes, wildfires, winter storms and
even a tsunami.
"We also reflect with gratitude on the 54 lives CAP saved in search and rescue missions in fiscal year 2011 alone.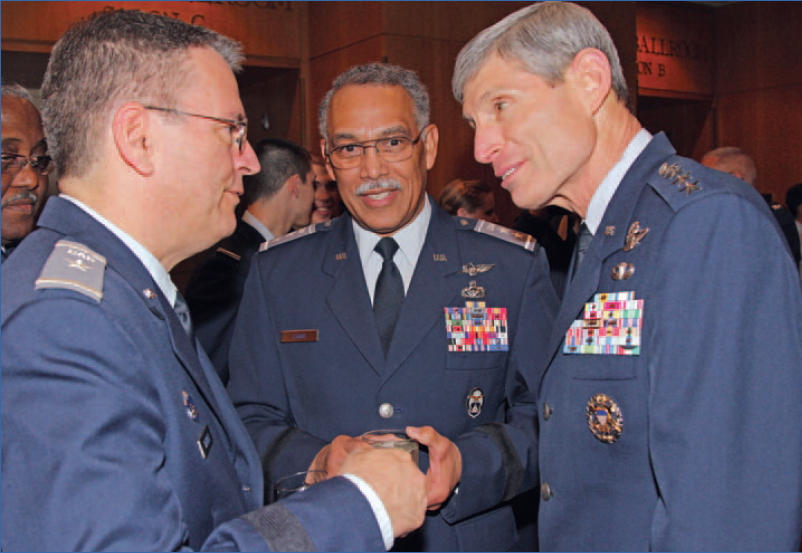 "I close by emphasizing the importance of mentoring our youngsters, because we will eventually hand the mantle to these talented — in so many cases, even more capable — young Americans.
"The consequential deeds of our young men and women who currently serve will be followed by the accomplishments of many of the bright and talented cadets in this room and elsewhere.
"We need generous and thoughtful people who will strive to excel in all of their tasks, no matter large or small, team or individual, routine or extraordinary.  Every step counts as progress, and every member of the team matters.
"I trust your continued educational, leadership and character development leads you to an exciting and fulfilling career in service to our nation, whether in uniform or otherwise.
"If you wish to demand the most of yourself,
"If you strive to discipline yourself to achieve lofty goals,
"And if you desire to uphold the highest standards of performance,
"Then we have a place for you in the U.S. armed forces."