Register NOW for 2013 Mid-Winter Dinner…and Get a Free Year of Membership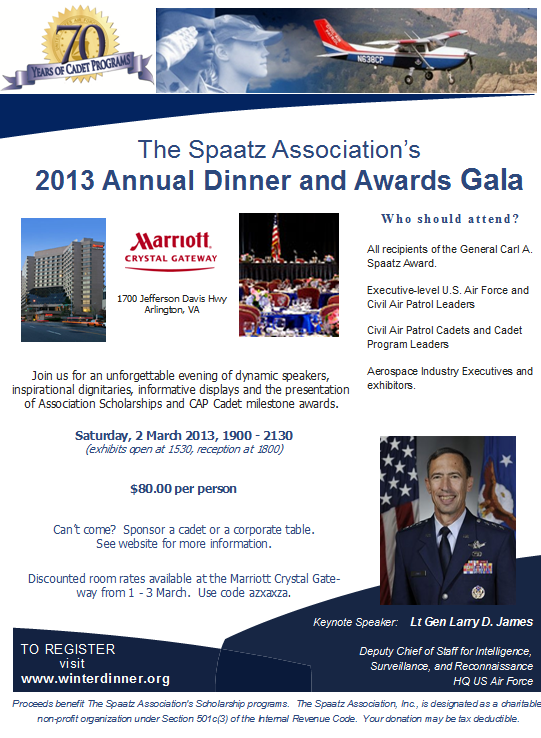 We are now three short weeks from the 2013 Spaatz Association Annual Dinner and Awards Gala!
Are you registered yet?
We understand that these are tough economic times for many, and breaking away for an event like this is both costly and time consuming.
Recognizing this, we've decided to sweeten the pot.
Every paid attendee at this year's event will earn ONE membership credit*, valued at $20, for The Spaatz Association.  You can use this credit to
(a) extend your own Association membership,
(b) extend or award membership to another Spaatzen, or
(c) donate it to the New Spaatzen Membership Program which allows us to grant one or more free years of membership to new Spaatz award recipients.
Alternatively, if you cannot personally attend, we ask you to consider sponsoring a deserving cadet.  These cadets are our future leaders, and the TSA Mid-Winter Dinner allows a unique opportunity for them to begin networking towards that future.
You can register to attend or sponsor a cadet at www.winterdinner.org.
Sign up today!
v/r
MJH
Mike Hower, #895
National Secretary
* Dinner attendees will be contacted 4-6 weeks following the event with instructions on how to redeem their membership credits.  For additional information, contact secretary@spaatz.org.