Journey To Spaatz Mentor Program Now LIVE!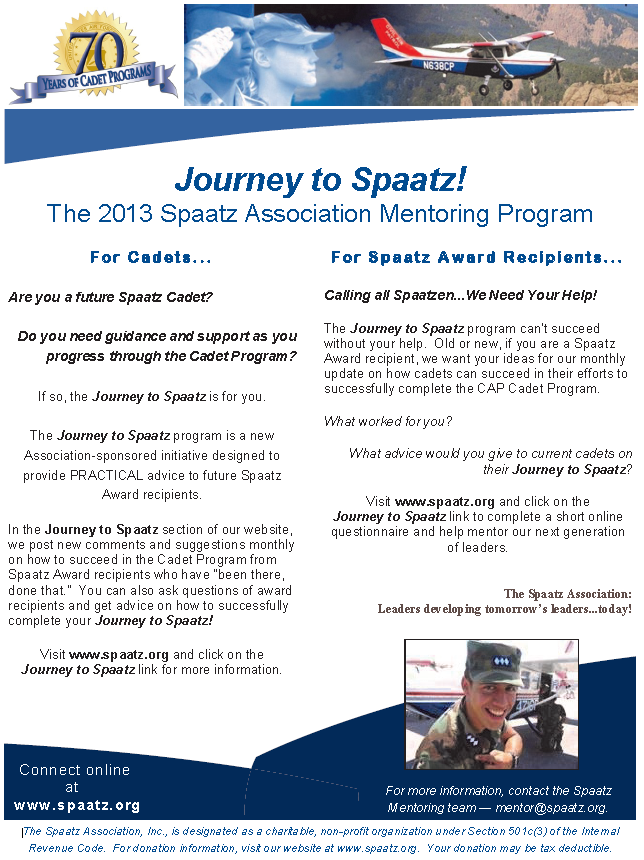 The Spaatz Association is proud to announce its first 2013 Mentoring Initiative — Journey to Spaatz.
This program is designed to help fulfill our mission of developing tomorrow's leaders today.  Whether you are a new cadet or a seasoned veteran, read on…
For Cadets:
Are you a future Spaatz Cadet?
Do you need guidance and support as you progress through the Cadet Program?
If so, the Journey to Spaatz is for you.
The Journey to Spaatz program is a new Association-sponsored initiative designed to provide PRACTICAL advice to future Spaatz Award recipients.  In the Journey to Spaatz section of our website, we post new comments and suggestions monthly on how to succeed in the Cadet Program from Spaatz Award recipients who have "been there, done that."  You can also ask questions of award recipients and get advice on how to successfully complete your Journey to Spaatz!
For Spaatzen:
The Journey to Spaatz program can't succeed without your help.  Old or new, if you are a Spaatz Award recipient, we want your ideas for our monthly update on how cadets can succeed in their efforts to successfully complete the CAP Cadet Program.
What worked for you?
What advice would you give to current cadets on their Journey to Spaatz?
To learn more or to contribute, visit Journey to Spaatz!