John W. McGaha, Spaatz #666, 1963 – 2014
Apr 21, 2014
TSA Webmaster
Courtesy of Alisha Cope Christian via the TSA Facebook page.
It is with a heavy heart that I announce the passing of one our longtime friends in MER Cadet Programs, Lt Col John McGaha.
"LTC John McGaha passed away peacefully this morning surrounded by family and friends. He fought his terrible disease courageously and with dignity.
LTC McGaha served Civil Air Patrol for over 37 years starting in the cadet program. He served in countless cadet positions at the squadron and Wing level and was the spirit behind the establishment of the Delaware Wing Diamond Flight Drill Team. John achieved the rank of Cadet Colonel and received the Spaatz Award (#666).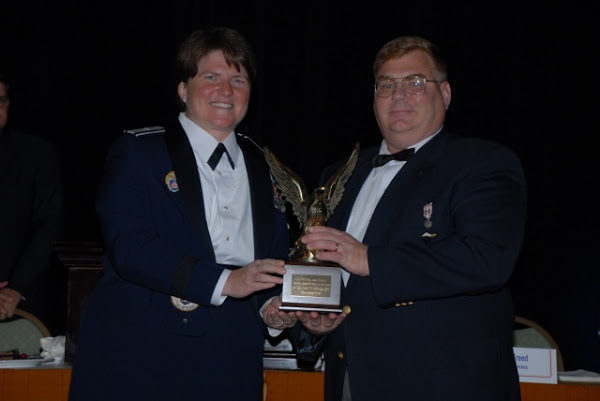 John gave himself to the CAP program with true passion especially to the cadet program. Countless cadets in Delaware Wing saw John as a mentor with his dedication to developing the best cadets and creating the finest drill teams and color guards for the NCC. He demanded perfection from his team and cadets. John cared deeply about the cadet program. He always thought of it as giving back to the program that have him so much as a cadet. He was often to say " Its all about the cadets". John gave to the cadets to the end even while he was battling his illness that was taking his physical strength. Over the weeks countless former and current DEWG cadets visited him. His spirits were lifted as he talked about the drill teams and saw the success of his former cadets. He met with recent and current drill team cadets and encouraged them to excel as CAP cadets and reminded them how much that they have grown from being members if the CAP program.
John was a leader, mentor and friend to many across the country in Civil Air Patrol. We are all better for having known him.
Please keep Johns wife Jen, his 3 children and his family in your prayers in this difficult time.
I will pass along any information regarding services as they become available."
—
Robert A. Hotchkiss Jr. Major CAP
Director of Cadet Programs
Delaware Wing Civil Air Patrol
Ed. Note: If you have additional information on John's passing, or would like to share your stories of him, please add a comment below.