Spaatz 1902 Presented at the Pentagon
Over 20 personnel gathered in the Secretary of the Air Force Conference Room on 2 July for the presentation of the General Carl A. Spaatz Award (# 1902) to Cadet Colonel Michael R. Poussard, Fairfax Composite Squadron, National Capital Wing.  Lt Gen Stephen L. Hoog, USAF Assistant Vice Chief of Staff, officiated the ceremony.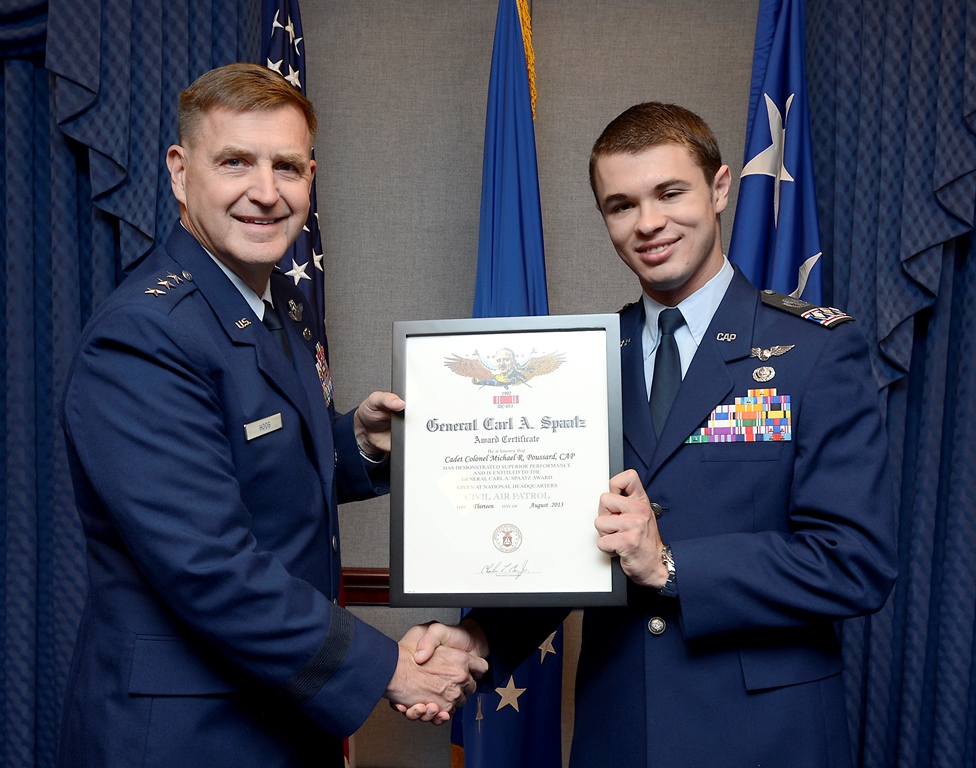 In addition to Cadet Poussard's family and several USAF General Officers, CAP Maj Gen Charles L. Carr, Jr., CAP's National Commander, was present along with many other National Headquarters, Middle East Region, National Capital Wing and Fairfax Composite Squadron personnel.
Cadet Poussard is currently a seminarian in priestly formation for the Roman Catholic Diocese of Arlington, Virginia. He is currently studying Philosophy at the Pontifical College Josephinum in Columbus, OH.
Previously, Cadet Colonel Poussard attended Embry-Riddle Aeronautical University in Daytona Beach, FL, where he studied Aerospace Engineering on a full (Type 1) Air Force ROTC scholarship.  He is an instrument-rated private pilot with over 300 flight hours.  In 2011, he earned the national-level Frank Brewer Memorial Aerospace Award and the Air Force Association Aerospace Education CAP Cadet of the Year Award.
At the conclusion of the ceremony, the USAF Chief of Staff, General Mark A. Welsh III, stopped by to congratulate Cadet Colonel Poussard on a job well done.