Seeing Double: S. Carolina Brothers Receive Spaatz Awards in Pentagon Ceremony
Republished from CAP Volunteer Now (link).
Kristi Carr
Contributing writer
There's nothing like a U.S. general to make a big Civil Air Patrol event even bigger. With the Pentagon as a backdrop, Gen. Martin Dempsey, chairman of the Joint Chiefs of Staff, presented South Carolina Wing brothers David and Adam Eudy with their Gen. Carl A. Spaatz awards in September.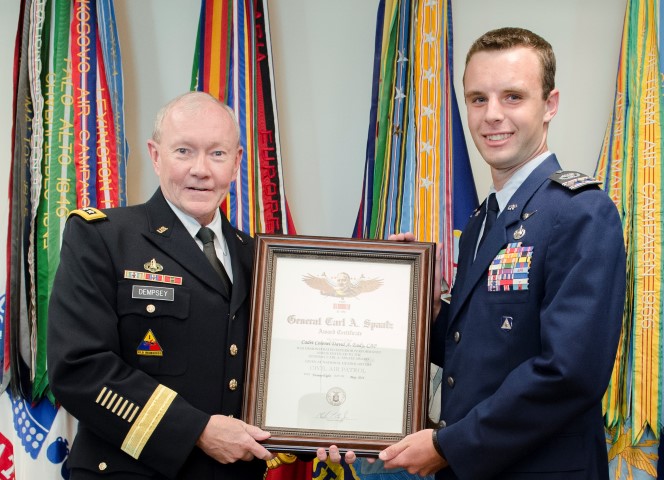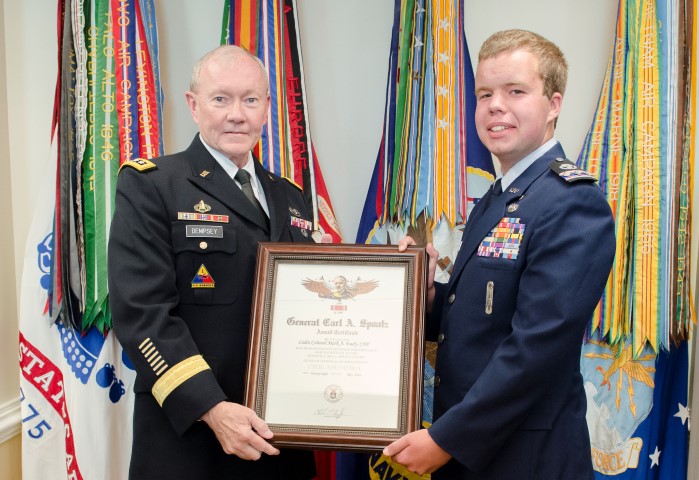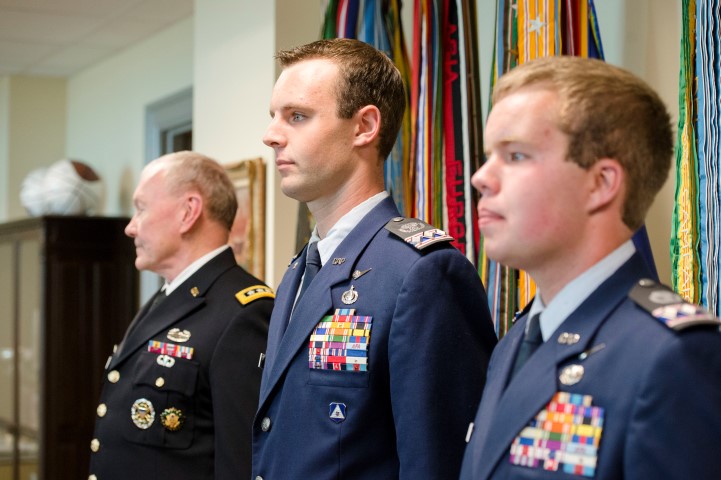 The general
Chief Petty Officer Derrick Davenport, Dempsey's senior aide and a close family friend of the Eudys, orchestrated the very special presentation of CAP's most prestigious cadet honor, achieved by less than one-half of 1 percent of all cadets.
Davenport is well-known in military culinary circles. As the 2013 Chef of the Year, he took the U.S. culinary team to an international gold medal and is currently the U.S. team's manager. He first met the Eudy family about five years ago when Adam was barely a teenager but nevertheless apprenticing with well-known chef Robert Irvine, who operates the restaurant "eat!" on Hilton Head Island and hosts the Food Network show "Restaurant Impossible."
Adam
Before you could say "Check, please," Adam was working with the Pentagon's culinary team and the White House chef. He has participated in four consecutive military culinary competitions at the Joint Culinary Center of Excellence at Fort Lee, Virginia, where he conducted culinary demonstrations, assisted the culinary teams and met several other chefs and pastry artists.
Winner of the South Carolina Skills USA culinary arts competition the past three years, he recently finished sixth in the nation. He has served for the past three years as the pastry chef for four-star Gen. Robert Cone's annual Christmas party, with guests who included more than 200 high-ranking military officials and dignitaries from 17 countries. He is just coming off five days of preparation and cooking at the White House for the Annual Congressional Picnic.
What started as a homeschooling project and a way to make some spending money has mushroomed into a perfect meld of culinary interest and CAP, where Adam serves as cadet commander for the Low Country Composite Squadron. Besides mentoring younger cadets in his squadron and participating in the unit's color guard, he is the recorder for the South Carolina Wing's Cadet Advisory Council, was named the 2014 South Carolina Air Force Association Cadet of the Year, has served as an instructor in the Middle East Region's Regional Cadet Leadership School-South, has visited the United Kingdom through the International Air Cadet Exchange and has participated in numerous encampments and CAP Legislative Day.
Add in his work as a puppeteer for Creative Ministries, participation in the Hilton Head Youth Symphony as a violinist and his membership in Junior Toastmasters International, and he has — pardon the pun — a full plate.
Even so, he found time to pursue the Spaatz award with its tests on leadership, aerospace, character and fitness.
David
Not to be outdone by his younger brother, David was also in hot pursuit of a Spaatz award. Like his father, Mark, David's interests center on the church; he is majoring in Christian studies with a minor in aerospace studies at Charleston Southern University. And like his brother, he was his squadron's cadet commander and South Carolina's AFA Cadet of the Year (for 2013), belonged to Junior Toastmasters International and served (as vice chairman) on the wing's Cadet Advisory Council.
David earned his solo wings in a Cessna 172 at the wing's Flight Academy earlier this year and was named South Carolina 2014 Cadet of the Year. He has earned ribbons for search and rescue and two finds.
He has assumed several leadership roles, including service as an evaluator and trainer for other cadets who want to serve on staff for future wing events. He's also participated i8n CAP's National Glider Academy, National Flight Academy, National Blue Beret, Cadet Officer School and International Air Cadet Exchange, visiting Belgium.
Also homeschooled, David is the lead puppeteer for Creative Ministries, has been active in baseball and swimming and is an accomplished guitarist, playing for his church's praise band as well as at the Main Street Youth Theater and the Coastal Arts Center on Hilton Head Island. He serves as a part-time music minister at two local churches and plays for special events in the community.
The Eudy family
David and Adam, now Spaatz Nos. 1945 and 1946, respectively, come from a family that is thoroughly CAP. Parents, Mark, a minister, and Crystall, a nurse, are both captains, and younger brother Noah, 15, is a cadet second lieutenant. Twins Levi and Lydia, 13, are cadet staff sergeants.
While their mother noted a bit of competition between the two working on their Spaatz awards — David got his submitted just 30 seconds before Adam hit "send" — David told a local news outlet, "It's really cool to have your brother, who joined (CAP) with you …, by your side the whole entire time."
The Pentagon experience
"The general is such a humble man, with a great heart for young adults. His desk was Gen. MacArthur's desk from World War II. And, yes, I got to salute him, the chairman of the Joint Chiefs!" David said.
Adam added, "Going to a place as iconic as the Pentagon was incredible. Because of the awards ceremony, we were given clearance to drive right up to the front door of the river entrance, where I'm told only foreign dignitaries and high-ranking officials are permitted to arrive. After the presentation we were given a tour of the Pentagon — really neat, as all the floors and corridors are different."
And now?
David has joined Air Force ROTC at his college and has hopes of becoming an Air Force chaplain. Adam is off to the Culinary Institute of America in Hyde Park, New York.
Even the general's wife, Deanie Dempsey, wrote on her Facebook page, "Not only is it special that this is the first time that two brothers received the award at the same time, but also that Marty's senior enlisted aide, Senior Chief Derrick Davenport, has been mentoring these young leaders for over three years. It is great to know that these young men are inspired to serve and also to see our service members investing in the next generation of leaders!"
Davenport added, "When I asked Gen. Dempsey if he would present Adam and David with the prestigious Gen. Spaatz award, he agreed without hesitation. During the presentation, he spoke of the rich history of the Air Force and Civil Air Patrol and the remarkable accomplishments of these two brothers to receive an award that very few cadets attain."