National Commander Presents Spaatz Award
Dec 19, 2019
Jay Sliwinski
CAP's National Commander, General Mark Smith, visited Minnesota on Dec 7, 2019 to present #2257, Iva Hammitt with her Spaatz Award.  Eight other Spaatzen were in attendance to welcome her into the ranks.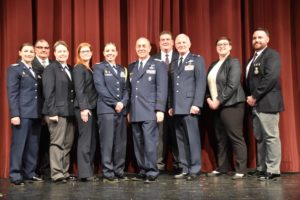 Left to Right (Both Rows)
Leslie Seery #2040, Jay Sliwinski #851, Regena Aye (Bailey) #1142, Zophia Raleigh #2086, Iva Hammitt #2257, General Smith, Doug Rutherford #442, Mike Huttner #320, Caitlin Albright #2004, Ryan Kenny #1638
Do you have photos of Spaatz Ceremonies or other Spaatz Related Events?  If so, email them to secretary@spaatz.org along with a narrative / description.  Be sure to include the name of those in the photograph (if known).