Steven R. Gullberg, II, #1465, 1985 – 2013
Dec 03, 2013
TSA Webmaster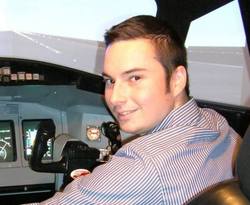 Steve Gullberg, II, Spaatz #1465 died suddenly on Monday, 2 December 2013, in a plane crash in Puerto Rico.  Steve was the first second-generation Spaatz award recipient, son of Spaatz #439, Lt Col Steven Gullberg.
Below is a brief excerpt summarizing Steve's extraordinary life.
—————
Steven earned a Bachelor's degree from the University of Oklahoma in 2008.
While in college he started two very successful internet businesses marketing electronics, one of which he maintained until deciding to re-enter flight training to do what he loved the most – fly.
Steve had been exposed to airplanes and flying since before he was born, flying with us while I taught Jessica to fly while she was pregnant with him. After his birth we continued flying with him in a car seat behind us in the airplane. By the time he could talk he said that when he grew up he wanted to fly. I took him flying from time to time and took him on the airline trips I was flying as well. One time we headed on a trip to Sweden for the weekend on a day's notice. TWA had me teaching pilots to fly our airplanes in simulators and I would take him there and let him fly too. I also picked up a new MD-80 from the factory in Long Beach, CA – Steve came along and flew back to Kansas City with me riding in the cockpit. Steve soloed a glider when he was 14 and I, as his instructor, soloed him in a Cessna 172 on his 16th birthday.
He joined the Civil Air Patrol as a cadet as he entered the sixth grade. Steve loved the airplanes and all of the other aspects of the program. It was with CAP that he flew gliders and received orientation flights on military aircraft as well. He rose rapidly through the ranks, becoming the cadet commander of his squadron. He attended CAP's Air Force Pararescue Orientation Course at Kirtland AFB, NM, and went on the International Air Cadet Exchange to Australia. Ultimately Steve earned Civil Air Patrol's highest cadet honor – the General Carl A. Spaatz Award. He was the 1465th cadet to do so in the long history of the achievement and this promoted him to the rank of Cadet Colonel. His father earned the 439th Spaatz Award when he was a cadet and Steven became CAP's first second-generation Spaatz Award recipient.
Steven played football all four years that he attended Hazelwood Central High School. He also was honored as a division winner at the Greater St Louis Science Fair at Queeny Park for a project he that did showing the boundary layer separation of the airflow over the upper surface of a wing in accordance with changes in the wing's angle of attack.
Steve was a graduate of the University of Oklahoma and played football for Hazelwood Central High School. He was a Cadet Colonel in the Civil Air Patrol and a member of St. Peters United Church of Church.