Spaatz Presentation #1953 – Rachael Bailey
Nov 11, 2014
TSA Webmaster
[Courtesy of the 22nd SAR (Burlington Composite)
Squadron, Burlington, NC.  Edited for content.]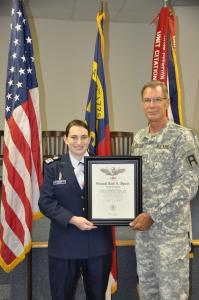 Burlington, NC, 11 November 2014 — Over the month of August, Burlington Composite Squadron had a handful of promotions, including the Spaatz Award being awarded to Cadet Colonel Rachael Bailey.
Her award was presented by Brigadier General (Ret.) Blake Williams, a long time friend of the family.
Cadet Bailey joined CAP in March 2010.  She has served on Encampment Staff and has been heavily involved in Emergency Services.  She recently received her Emergency Medical Technician Basic certification, and is currently serving as the Cadet Commander of Burlington Composite Squadron.
Rachael first heard about CAP through her local homeschool band, where a majority of the members were active participants in CAP. She later came to a weekly meeting at our squadron and observed how Civil Air Patrol Cadets were better organized, motivated, and disciplined than the typical teen. She joined the squadron with the goals of one day wanting to achieve a higher level of professionalism, to be organized, and get into shape.
My original goal in CAP was to one day be Cadet Commander and receive the Carl A. Spaatz Award. Some of my short term goals included getting to Ground Team Member Level 3, Cadet Staff Sergeant, and Logistics Officer within 1 year. I achieved those goals, and was proud of what I had done.

Some of the challenges along the way included that I didn't know how to talk to people–breaking out of fear and out of my shell–and the fact that I was overweight. CAP gave me the motivation to succeed. My plans for the rest of my life include, above all, helping people, and to go to Physician Assistant School. I started out just as everyone else. CAP helped me get to where I am today."
We are highly proud of the fact that we have Cadet Colonel Rachael Bailey as a member of Burlington Composite Squadron, and we wish her nothing but success in the future!