Fully two and a half years in the making, the official Spaatz commemorative challenge coin is now a reality! The Association has spared no expense to bring you a coin of the finest quality possible–a fitting tribute to your commitment to excellence as a Civil Air Patrol cadet, and one you'll be proud to carry or display.
Designed by Matt Johnson (#901), the coin's face features a likeness of General Spaatz, based on a portrait by famed Steve Canyon comic artist Milton Caniff for the National Aviation Hall of Fame and meticulously hand-sculpted in England by artist Edward Llewellen. Llewellen's 7¼" plaster sculpture was then reduced to a 39 mm steel die via a pentagraphic process.  These American Made coins are die-struck under more than 1000 pounds of force by our mint in Wisconsin.
The coin's reverse displays the association's logo in beautiful 3-D relief and includes a special area for engraving the holder's Spaatz Award certificate number. The coin is available to collectors in a highly-polished "proof" finish in nickel silver.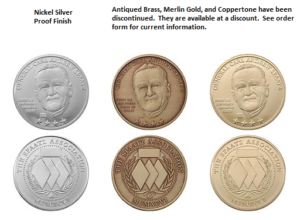 Proceed to order form (external link)