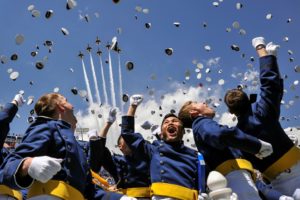 The Spaatz Association Academic Scholarship Program is designed to provide financial support for post-secondary education (college or trade school) for those studying for the aerospace industry or leadership education.
-Must have earned your Mitchell by the date that you apply.
-Good for any post-secondary education (accredited college/university or trade school).
-Must be for aerospace industry program or leadership education..
-Maintain as least a 2.7 GPA in high school, college, or trade school.
-Must be a cadet at time of application closing date and may continue to use the award through the following year (if still a cadet or transitions to senior member status).
Submit an electronic nomination package via the link below anytime during the application period.
 Applications are accepted from 1 October through 30 November at 2359 central time for the following year's scholarships.
In order to honor the Spaatzen who was a major participant in the founding and financing of this scholarship, it has been named the Lt Col Brian Campbell Academic Scholarship.
We are also happy to announce that a second academic scholarship has been funded through 2032, the Johnnie Petruff Academic Scholarship is in honor of the father of a Spaatz Recipient, Patricia Petruff #110.  Johnnie was a WWII Pacific Theater veteran who was an avid pilot and longtime member of the Civil Air Patrol in North Miami, Florida. He encouraged his son and daughter to join the CAP and participated with them in a myriad of cadet activities. During the course of his life he owned several single-engine planes and also had a banner towing business in Miami.
For more information, or to apply, click the links below!
Questions?
If you have questions, contact our Scholarship Coordinator.
Looking to sponsor a Scholarship or Grant?  Contact Us.